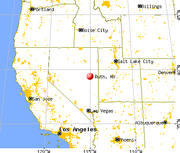 Desperation
is a small mining town in Nevada near the
Desatoya Mountains
.  Desperation is home to the
China Pit
mine and
Tak
's gateway to
Keystone Earth
. The town is modeled after Ruth, Nevada.
Writing and release
Stephen King was inspired to write Desperation as a result of a cross-country drive in 1991, during which he visited the small desert community of Ruth, Nevada, near U.S. 50. His first thought was that the town's inhabitants were all dead. He then wondered who had killed them, and the idea occurred to him that the town's sheriff had done so. Desperation was released simultaneously with the novel The Regulators , which was published under King's famous pen-name Richard Bachman.
Appearences
Ad blocker interference detected!
Wikia is a free-to-use site that makes money from advertising. We have a modified experience for viewers using ad blockers

Wikia is not accessible if you've made further modifications. Remove the custom ad blocker rule(s) and the page will load as expected.