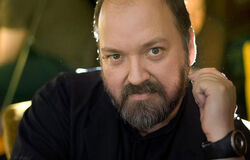 David "Dave" McKean (born 29 December 1963) is an English illustrator, photographer, comic book artist, graphic designer, filmmaker and musician. His work incorporates drawing, painting, photography, collage, found objects, digital art and sculpture. McKean's projects include illustrating books by amongst others Heston Blumenthal, Ray Bradbury, Neil Gaiman and Stephen King, and directing three feature films. He did the art for Wizard and Glass.
Gallery
Ad blocker interference detected!
Wikia is a free-to-use site that makes money from advertising. We have a modified experience for viewers using ad blockers

Wikia is not accessible if you've made further modifications. Remove the custom ad blocker rule(s) and the page will load as expected.