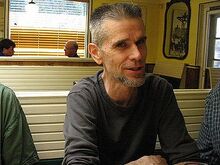 Darrel Anderson has been creating and inventing professionally for over thirty years. As a teenager, his early love of science was diverted into the visual arts. During the mid-70s to mid 80s, Anderson made a living by selling work at Science Fiction and Fantasy conventions. In the early 1980s an illustration job landed an Atari 800 on his desk, which inevitably led to an intertwining of art and science in his creative pursuits. Anderson co-founded Braid Media Arts with Rick Berry. Braid is a group of creative collaborators with ongoing projects in the arts and sciences. The members of Braid support the belief in cooperation, collaboration, and the genius of friendship.
Darrel Anderson has contributed to the following Dark Tower Works:
Song of Susannah(Illustrator/Painter)
Gallery
Ad blocker interference detected!
Wikia is a free-to-use site that makes money from advertising. We have a modified experience for viewers using ad blockers

Wikia is not accessible if you've made further modifications. Remove the custom ad blocker rule(s) and the page will load as expected.