Christine (car)
Comments

3
1,955pages on
this wiki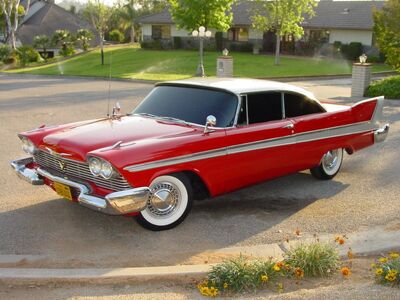 Christine
is a 1958 Red
Plymouth Fury
. She is a posessed car that mows down and kills the people who torment her owner, the dorky
Arnie Cunningham
.
Biography in Novel
Edit
In the book, Christine is a 1958 four-door Red Plymoth Fury that a high school dork named
Arnie Cunningham
purchases for $250 in 1978. It is a fancy car, with white brimmed tires, double headlights, and white trimmed rims, but it is also wrecked, and is in need of serious repair. Dennis, Arnie's Jock friend, does not like Christine, and advises him against purchasing it for a first car. But, Arnie buys it anyway, much to the dismay of his parents, and they get into a heated debate. Arnie stores it at Darnell's, a do-it-yourself garage and junkyard located outside of town. The ill-tempered owner, Will Darnell, distrusts both Arnie and Dennis, and is mean to them. Arnie fixes up Christine over time, and the car becomes his obsession. He starts driving it everywhere, and even gets Leigh Cabot to be his girlfriend, much to the dismay of Dennis. Arnie becomes humorless and arrogant, but also assertive and cruel. Christine is destroyed by
Buddy Repperton
and his gang, who want revenge for Buddy being expelled because Arnie told a teacher that Buddy threatened him with a switchblade. After Christine's destruction, Arnie angrily blames Leigh for it, and fights verbally and even physically with his parents. Arnie frantically attempts to fix the car again,but the car rebuilds itself in front of him, in a manner similar to a striptease. Christine goes after Repperton's gang, killing them all one by one, all the while playing ironic oldies music starting with
Moochie Welch
. Each time Christine commits a murder, she restores herself so there is no evidence of what she has done.
At the end, Repperton himself is killed when Christine smashes through a gas station and blows it up killing Richie Trelawney by crushing him against Buddy's camaro and Don Vandenberg in the explosion that Christine starts. Then Christine chases Buddy while on fire and drives over him, leaving his flaming body in the middle of the country road.
Christine pulls into Darnell's, and Darnell is suspicious. He grabs a double-barreled shotgun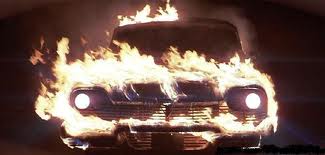 and goes inside Christine who crushes him with the seat. Finally, Dennis carves
Darnell's Tonight
into her hood and waits inside a septic tank truck named
Bessie
. He destroys Christine before she can rebuild herself and crushes her into a cube, but only after Arnie is killed in a highway accident with his mother. (In the movie, Arnie is killed with a shard of glass, and Christine is crushed with a bulldozer) At the end of the story, Dennis and Leigh begin dating, but later go their seperate ways, and Dennis realizes that Christine is back, and killing all those responsible. 
In the movie, Christine is crushed into a cube like in the novel, and Leigh and an injured Dennis both look on as what remains of Christine is dropped into a junkyard. However, they both notice classic rock playing, similar to the music Christine played on her radio, although it is revealed to be playing from a boombox carried by one of the junkyard workers. Leigh remarks that she hates rock and roll as they leave the scene, and the camera slowly pans in to the crushed car, and a piece of Christine's grill slowly starts to bend, indicating that Christine is still alive, prepared to rebuild herself and go after Dennis and Leigh.
Nobody knows exactly where Christine came from; in the movie, it is suggested that Christine was bad from the start, because she crushes a man's hand with her hood and kills another after he drops a cigar ash on her seat, all while she was being built. In the book, it is suggested that she may be posessed by the ghosts of Roland LeBay's family; his daughter choked in the backseat- later information reveals that LeBay deliberately left his daughter in the back seat of the car, speculated by Dennis to be him attempting to sacrifice his daughter to Christine-, and his wife committed suicide inside her front seat. Either one suggests that she could have been bad to the bone even before those, and that she killed LeBay's daughter, rather than LeBay's family posessing the car. In the book, it is heavily implied that LeBay himself has posessed the car, though this is rather unclear.
What is known, however, is that she becomes extremely attached to her owners, and kills those who she sees as a threat to her relationship. She also makes her owners become obsessed with her, and kills anybody who may be hurting them. She also possesses the power of regeneration, allowing her to repair any damage sustained in her independent rampages. However, it is unclear if this ability was limited at first; Arnie did some repair work on Christine when he originally purchased her, but she was shown repairing some damage on her own, making it unclear if she genuinely needed Arnie to work on her at first or if she was merely trying to 'blend in'.
Appearences
Edit
Christine is one of King's most popular creations, books, and movie adapations. She is seen in the book, the movie, and even referenced and seen in a couple other books and movies. She has also left a lasting impact on popular culture. She makes a cameo appearence in Cat's Eye along with Cujo, the rabid St. Bernard. As he chases General she pulls up and manages to brake in time. Afterwards, the car drives away. It is unknown whether this 1958 Plymouth Fury actually is Christine. (In the "Cat's Eye" trailer, she has a bumper sticker that reads: "Watch out. I am pure evil. I am Christine") While not openly mentioned,  Christine appears in the Stand: Complete and Uncut. While attempting to return to Boulder Tom and Stu come across a "very old Plymouth". Unlike most of the other cars the two men came across, this one had no driver behind the wheel.  The key fob bares the initials A.C., an obvious nod to Arnie Cunningham.
It (novel)
Cat's Eye (Cameo)
The Stand Complete and Uncut