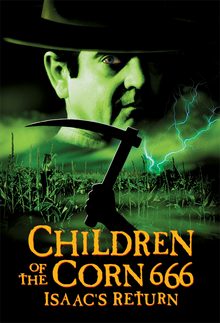 Children of the Corn 666: Isaac's Return is a direct-to-video sequel to the 1998 movie Children of the Corn V: Fields of Terror, released on 19 October 1999.
The movie is followed by the sequel Children of the Corn: Revelation.
Cast
Natalie Ramsey as Hannah Martin
John Franklin as Isaac Chroner
Paul Popowich as Gabriel
Nancy Allen as Rachel Colby
Stacy Keach as Dr. Michaels
Alix Koromzay as Cora
John Patrick White as Matt
Sydney Bennett as Morgan
Nathan Bexton as Jesse
William Prael as Jake
Gary Bullock as Zachariah
Ad blocker interference detected!
Wikia is a free-to-use site that makes money from advertising. We have a modified experience for viewers using ad blockers

Wikia is not accessible if you've made further modifications. Remove the custom ad blocker rule(s) and the page will load as expected.