This article pertains to the character as he appears on television. You may be looking for his literary counterpart.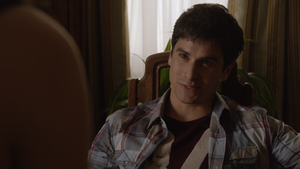 Carter Thibodeau is a resident of Chester's Mill, and a former boyfriend of Angie McAlister.
Two days after a mysterious invisible barrier appeared around the town, Carter crashed a "recharge" party at Angie's house, and attempted to charge teenagers five dollars for the use of Joe McAlister's electricity. He intimidated Norrie Calvert-Hill before Joe ordered him to leave; only after the McAlister's generator failed did Carter finally leave, threatening Joe on his way out.
He was later deputized under Sheriff Linda Esquivel, joining the Chester's Mill Police Department. He discovered the body of Lester Coggins near the Dome after Coggins' hearing aid exploded and killed him (Big Jim Rennie making it happen).
Carter later accompanied Big Jim, Junior, Barbie and Linda to Ollie's farm to retrieve Ollie's well and reveal that they are using town laws to take control of it. Carter later refused to move from the well when Ollie demanded he did so, Ollie then told another farmer to shoot Carter in the knee cap. Barbie helped Carter up and left the farm with Linda and Big Jim. They later took Carter to the clinic with his knee cap shot out.
Appearances
Ad blocker interference detected!
Wikia is a free-to-use site that makes money from advertising. We have a modified experience for viewers using ad blockers

Wikia is not accessible if you've made further modifications. Remove the custom ad blocker rule(s) and the page will load as expected.