Carrie (1976 film)
Comments

2
1,960pages on
this wiki
Carrie is a 1976 film based on the novel of the same name by Stephen King. The film was directed by Brian De Palma from on a screenplay by Lawrence D. Cohen.
The film was followed in 1999 by a sequel, The Rage: Carrie 2. It was rebooted in a 2002 made-for-TV movie and will be remade again with a 2013 film starring young actress Chloe Moretz.
Synopsis
Edit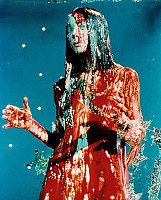 Carrie White is a gifted but very unpopular student at Bates High School in Chamberlain. After phys-ed class one day, she has her first period. Carrie does not know what is happening to her and rather than helping her, Chris, Sue and the other girls throw sanitary napkins at Carrie. The gym instructor Ms. Collins runs out of her office to quiet the commotion, but Carrie continues to scream for help until Ms. Collins slaps her to quiet her down. In the middle, Carrie manages to "break" an overhead lamp, causing Chris and the other girls to laugh. After Ms. Collins throws them out, she explains the concept of menstruation to the frightened Carrie, who had never heard of such a thing as her mother never talked to her about it.
During a visit to the principal's office, he pronounces Carrie's name wrong numerous times before Carrie yells at him and causes an ashtray to fall to the floor. Later, as she is walking home, a young bike-riding boy teases Carrie. She somehow "knocks" the boy off of his bike and continues along. Once home, Carrie is berated by her mentally ill, fanatically religious mother Margerat White about the "woman's curse" and forced to recite lines from a book. Afterwards, Mrs. White drags her daughter kicking and screaming into a kitchen closet to pray for forgiveness from a sin that she did not commit.
Carrie is sent to bed later that night and cries about the closet incident in her room, unconsciously breaking a mirror while staring at it. When Mrs. White comes upstairs to see where the "noise" came from, Carrie feigns ignorance.
The following day, Carrie listens while her English teacher Mr. Fromm reads a poem written by Tommy Ross. Mr. Fromm then quips with Tommy and invites criticisms from the class. When Carrie gives hers, Fromm mocks her in front of everybody. Tommy quietly berates Fromm, who asks Tommy to repeat what he said. Tommy all too happily "obliges."
Meanwhile, Ms. Collins is still furious with Chris and her cohorts over the shower incident and, as a result of having her original punishment (suspension and loss of prom privileges) dismissed, puts the girls through a "boot camp" style detention. Chris, however, refuses to cooperate and is barred from the prom when she further pushes Ms. Collins.
As for Carrie, she spends time in the library finding out more about her "gift," telekinesis (earlier, Ms. Collins excused her from gym for a week).
Sue, feeling guilty for her part in teasing Carrie, meets Tommy at the running track and asks if he has a moment to talk. During their conversation, she suggests that Tommy take Carrie to the prom in her place. Elsewhere, Chris and her boyfriend Billy go out on a maddening joyride where she makes her true intentions known--she wants help in getting even with Carrie. Billy is clueless.
The following day has Tommy searching out Carrie at the library to ask if she will go to the prom with him. Carrie suddenly runs away from Tommy, thinking that his request is another trick. However, after an encouraging talk with Ms. Collins and further persuasion by Tommy, Carrie agrees to go to the prom. That night, Billy, Chris and some others sneak into a pig farm and slaughter a pig. Meanwhile, Carrie talks to her mother about being invited to the prom. Mrs. White becomes insensed at the idea and berates Carrie again about boys only wanting sex from girls. Then, while she goes to close the windows, Carrie uses her powers to close them, thus exposing her powers to her mother. Mrs. White believes Satan is at work within her daughter, but Carrie further acknowledges that the power is hers and that things are about to change.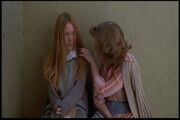 At the Bates gymnasium, Chris and Billy squabble while Billy is pouring blood into a bucket sitting on an overhead rafter. When Chris beckons him to hurry, Billy tells her that if she keeps cool, she can pull the rope at the prom. Chris only smiles...
Back at the White's house, Mrs. White is praying for Carrie while the latter is sewing her pink prom gown.
A brief coversation between "Ernie" Peterson and Billy's friend Freddie ensues the following day at school, with Chris listening at a distance. Freddie wants a place on the prom committe and Ernie wants to know why Freddie waited until prom night to inquire about. However, Ernie agrees to allow Freddie collect the prom king/queen ballots. Meanwhile, at a downtown beauty salon, Helen and Norma talk about Tommy taking Carrie to the prom (and of course, they laugh about it, too). Elsewhere, Tommy, George and another guy go into a tuxedo shop for their tuxes.
Prom night arrives, and Carrie is home getting ready when Mrs. White enters her room and begins putting down her daughter's gown. When she later says that Tommy is not coming, that everyone is going to laugh and that she'll pretend that Carrie is sick, Carrie pushes her mother down onto her bed twice before Tommy arrives. Carrie tells her mother to stay put until she leaves.
Once the couple get to the gym, Carrie gets nervous, feeling that coming to the prom was a bad idea. Tommy, however, assures her that it will be a good time. The two then exit the car and head for the prom. Inside, the prom is already in full swing. Carrie and Tommy meet Freida and George at the front door, where Freida complements the stage decorations and Carrie's dress, and invites the pair to sit with George and herself.
At the Snell house, Sue asks about the time and when she is told, she suddenly leaves the dinner table to go "out."
Back at the prom, Tommy goes to chat with a few folks and Ms. Collins comes over to Carrie and talks to her about her senior prom. She also advises Carrie to never forget the moment. After a while, Tommy and Carrie go to dance and it is here where Tommy falls for Carrie and kisses her.
Sue eventually arrives at the prom, where she has to sneak into a rear door to prevent getting caught. Ernie gets on the stage and announces that it is time to corwn the prom king and queen, and to Carrie's surprise, she and Tommy are on the ballot. Although very objective to voting for themselves at first, Tommy eventually convinces Carrie to abandon "false modesty." Meanwhile, under the stage where the prom king and queen will be crowned, Chris and Billy monitor the activities of everyone present, making sure that Chris' "favors" are put in action. Norma and Freddy are busy collecting the ballots and when they finish both hurry to another side of the stage where Freddie drops them behind Norma to kick under the stage, and Norma pulls another set of ballots out of Freddie's tuxedo coat! She then hands those ballots to the prom committee, and heads to the stage to signal to Chris and Billy that everything is set. Ernie then announces the winners--Carrie and Tommy.
The couple make their way to the stage to be crowned prom king and queen. Meanwhile, Chris continues to pull anxiously at the rope Billy rigged to the bucket above the stage. Stage rear, Sue sneaks to a side of the stage to watch Carrie and Tommy. Everyone in the gym applauds the paiur, including Ms. Collins.
At the same time, Sue notices the rope moving out of the corner of her eye. When she looks up, she sees the bucket above the stage. Sue then follows the rope down to its source and finds that two people are under the stage, one of them holding the rope. Horrified, she hurries toward the stage's stairwell and sees Billy and Chris underneath it. Ms. Collins, having caught Sue, moves over to her to take her away, thinking that she is there to cause Carrie and Tommy trouble. Ms. Collins pulls Sue to the back doors of the gym and throws her out. At that moment, Chris pulls the cord and drenches Carrie with the bucket of pigs blood, ruining the happiest moment Carrie has had in a long time!
Everyone present falls silent, except Norma and a couple of Billy's pals, who all start laughing. Tommy is angered by this change of events, but the bucket falls on his head and knocks him unconscious. Meanwhile, Carrie begins to hear the voices of her mother, Mr. Morton, Ms. Collins and Chris's clique in her head. She also sees everybody laughing at her (although it is likely to be only Norma and Billy's crew laughing; also, Ms. Collins looks as if she is about to cry).
Chris and Billy escape from underneath the stage and head for a back door.
Carrie, her sanity completely gone, glares down eerily on the other promgoers and begins using her telekineses to shut the gym doors. Freddie and another man are crushed when they try to open them again. Carrie then begins to remove a fire hose and spray everyone in sight, including Norma, whom is knocked unconscious by the water blast. Mr. Morton and Mr. Fromm fight over the microphone and are electrocuted when Carrie moves the hose over towards the electrical equipment. Meanwhile, Ms. Collins and several other students attempt to move Tommy's body away from the stage when, as if pulled over by invisible hands, Ms. Collins suddenly moves toward a wall, where she is crushed by an overhead rafter. Back onstage, Mr. Fromm takes the full surge of the electricity and is thrown backward towards the stage tarp where he is burned by an massive inferno. Carrie then steps offstage and takes a final look at what she has done before leaving the gym and telepathically locking the doors.
Later, as a fire truck whizzes by, Carrie is walking home when Chrs and Billy arrive in Billy's car, prepared to run over the catatonic Carrie. However, Carrie senses the car speeding behind her and mentally "throws" the car off the road and sends it rolling before causing it to explode... Carrie arrives home to find the house riddled with candles. She walks upstairs, removes her now ruined gown and takes a bath. Afterwards, Carrie calls out for her mother and when she finds her, she breaks down in her arms and tells her that everyone laughed at her. Mrs. White then conveys to Carrie the story of her conception, the result of an "unearthly" rape by her husband, Ralph White. Thus believing that the devil has finally taken over Carrie, Mrs. White brings the girl to her knees and they both pray. Suddenly, Mrs. White reaches for a knife hidden under a floorboard and stabs Carrie in the back.
Carrie falls backwards down the stairs and is pursued into a kitchen corner by her mother. With no choice, Carrie uses her powers to pin Mrs. White to the kitchen doorway in a crucifix-like manner (similar to the St. Sebastian statue in the kitchen closet). Mrs. White cries out for a couple of minutes before dying. Carrie, seeing that she used her power to kill her mother, is overcome with gulit and grief, and screams out while removing one of the knives from Mrs. White's body. The house suddenly begins to shake and it eventually collapses around Carrie and her mother. Carrie realizes that this is a result of her power and quickly removes Mrs. White from the doorway to the closet. Once inside, a piece of debris strikes Carrie on her head. The hose collapses and sinks into the earth.
Days later, Mrs. Snell receives a call from "Betty," saying that she can no longer deal with the media. Meanwhile, Sue is in her room sleeping and has a dream of visiting the plot where Carrie's house once stood. As she stoops down to place flowers on the ground, a bloody hand reaches out and grabs Sue's wrist. She wakes up screaming in the arms of her mother, and the final shot of the film reveals a suitcase in Sue's room, suggesting that the Snells may/may not have considered moving away...
Notable changes from the novel
Edit
The film version of Carrie, although it follows the novel's plotline relatively closely, goes in some divergent directions from time to time. For example:
In the novel Tina Blake and Norma Watson take up ballets and Tina swaps them. During the prom disaster the two escape to the parking lot. In this film the role of Tina is combined into Norma Watson. Norma is killed by Carrie in the prom sequence.
Lines spoken by Carrie in the novel are given to Tommy ("You suck.") and Billy ("You f---!")
The gym teacher's name in the book is Ms. Desjardin (this name is probably mispelled in other articles relating to Carrie). But here, she is called Ms. Collins. This may/may not have been to differentiate novel and film from each other.
Near the end of the novel, Billy drove the car when trying to run Carrie over. In the movie, Chris is driving.
In the novel, Chris and Billy attempt to have sex inside of a roadhouse until they are interrupted by a classmate, Jackie Talbot, who warns them that their school is burning to the ground. In the film, they stay behind and watch helplessly as Carrie uses her telekinetic powers to destroy the entire school.
Noticeably, the name of the high school was changed from Ewan High School to Bates High School as an homage (?) to Norman Bates from the Psycho series
The scene where Carrie uses her powers to destroy much of downtown Chamberlain did not occur in the movie due to budget constraints during the time of filming. However, CGI effect overlays, could be used to recreate that scene in the 2013 remake.
Sissy Spacek's husband Jack Fisk convinced director Brian DePalma to allow the actress to audition as Carrie. DePalma enjoyed Spacek so much that she stayed on as the lead.
Spacek was willing to have real blood dumped on her head. In the end, the pigs' blood was made from food coloring and Karo syrup.
Another actress, Melanie Griffith, auditioned to play Carrie at one point.
DePalma and George Lucas held joint aditions for Star Wars and Carrie. A rumor exists where Spacek auditioned for Princess Leia, and Carrie Fisher autisioned to play Carrie. But, Fisher supposedly refused to appear in nude scenes and switched roles with Spacek. Later, Fisher debunked the rumor in a magazine article, saying that she not only enjoys being nude, but she also would have been nude at the time of filming for Carrie.
The pigs' blood kept drying to Spacek's skin due to the studio lights, and all that could be done was to simply wait until the substance became gluey (?) and then hose the actress down.
Spacek rubbed some Vaseline in her hair, did not wash her face and wore a dress made by her mother when she was in the seventh grade to her screen test.