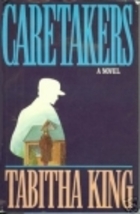 Caretakers is the second novel published by Tabitha King, and the first to take place in the town of Nodd's Ridge, Maine.
The book was released in 1983.
Synopsis
By all rights, they never should have known each other. Torie Christopher was a member of the Maine aristocracy, reckless and willful, wed to a blue-blooded doctor, and enjoying all the pleasures and privileges of wealth and position. Joe Nevers was of the working class, married to a woman determined to keep him in his place, and with only his rock-hard strength and unbending pride to depend on for dignity. Now, in a night filled with all the phantoms of the past and all the shifting shapes of love, Torie and Joe have to strip bare the truth about themselves and their lives...for they share secrets no one else knows...
Ad blocker interference detected!
Wikia is a free-to-use site that makes money from advertising. We have a modified experience for viewers using ad blockers

Wikia is not accessible if you've made further modifications. Remove the custom ad blocker rule(s) and the page will load as expected.