This article is a stub, an article too short to provide more than rudimentary information about a subject. Please help the Stephen King Wiki by expanding it.
Biography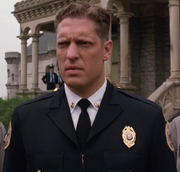 Capt. Byron Hadley is the chief of the guards at Shawshank Prison. Hadley is a sadistic guard who thinks nothing of delivering beatings to the inmates to keep them in line.
When Andy Dufresne proves to be useful thanks to his banking experience Hadley becomes his protector.  Hadley shoots Tommy Williams under warden Samuel Norton's orders after Tommy reveals that he has access to information that may set Dufresne free. Later, he is arrested for his part in the murder.
Hadley was played by Clancy Brown in the movie adaptation The Shawshank Redemption.
Appearances
Gallery
Ad blocker interference detected!
Wikia is a free-to-use site that makes money from advertising. We have a modified experience for viewers using ad blockers

Wikia is not accessible if you've made further modifications. Remove the custom ad blocker rule(s) and the page will load as expected.