Brian Russell De Palma (born September 11, 1940) is an American film director and screenwriter. He is considered part of the New Hollywood wave of filmmaking.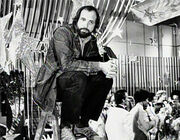 In a career spanning over 50 years, he is best known for his suspense, psychological thriller, and crime films. He directed successful and popular films such as the supernatural horror Carrie, The Fury (1978), the erotic crime thriller Dressed to Kill, the thriller Blow Out, the  crime dramas Scarface, The Untouchables,  Carlito's Way, and the action spy film Mission: Impossible.
Filmography
Feature films
Short films
Icarus (1960)
660124: The Story of an IBM Card (1961)
Woton's Wake (1962)
Jennifer (1964)
Bridge That Gap (1965)
Show Me a Strong Town and I'll Show You a Strong Bank (1966)
Documentary films
The Responsive Eye (1966)
De Palma (2015)
Gallery
Ad blocker interference detected!
Wikia is a free-to-use site that makes money from advertising. We have a modified experience for viewers using ad blockers

Wikia is not accessible if you've made further modifications. Remove the custom ad blocker rule(s) and the page will load as expected.