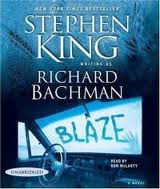 Blaze
is the 55th book published by Stephen King; it was his 46th novel, and the seventh written under the pseudonym of
Richard Bachman
. The book, described as a "
trunk novel
" like it's predecessor
The Regulators
, was released by
Scribner
on 12 June
2007
with an introduction by King.
Plot
The story concerns the mentally-challenged small-time crook Clayton "Blaze" Blaisdell as he attempts to carry out a high-profile kidnapping planned by his now-deceased partner-in-crime George Rackley. Interwoven through the crime story are flashbacks to Blaze's past, revealing the many experiences that shaped the man he would become.
Additional contents
Included in the book was the short story "Memory," which would become, with revision, the beginning of King's novel Duma Key.
Ad blocker interference detected!
Wikia is a free-to-use site that makes money from advertising. We have a modified experience for viewers using ad blockers

Wikia is not accessible if you've made further modifications. Remove the custom ad blocker rule(s) and the page will load as expected.