Beverly Marsh


Biographical Information
Born
1946
Died
Still Active
Also known as
Bev (by The Losers),

Bevvy (by her dad and The Losers),

Title(s)
Familial Information
Family members
Alvin Marsh (father), Elfrida Marsh (mother; deceased)
Affiliation
Occupation
Fashion Industry
Home
Derry, Maine (formerly (1960-currently-1990 onwards)

Chicago, Illinois (1990)

Loyalty
The Loser's Club, Alvin Marsh
Actors
Portrayed by
Annette O'Toole (Adult), Emily Perkins (Child)
Beverly Marsh
is one of the members in
The Losers' Club
. She was in love with
Bill Denbrough
in 1958 and she fell in love with
Ben Hanscom
in 1985 after they defeated
It
for the final time. She is also abused by her father,
Alvin Marsh
, and her husband,
Tom Rogan
. She was also friends with
Richie Tozier
,
Mike Hanlon
,
Eddie Kaspbrak
,
Ben Hanscom
and
Stan Uris
.
Heart Burns There Too - Bill Denbrough
Edit
One day Ben Hanscom rang Beverly's doorbell and left a poem on her doorstep. She picked up the poem and read what said: "Your hair is winter fire. January embers. My heart burns there too." Her abusive dad then read the poem himself and threatened to whip Beverly for screwing around with boys and taking the poem from her. Beverly immediatly got out of the house and ran into Ben. He apologized for getting her into trouble and they introduced themeselves to each other. Afterwards, Ben introduced Beverly to the Losers' Club and she became a member. After Beverly came home, she developed a crush on Bill.
In the book, it was Ben Hanscom who wrote the haiku on a postcard and mailed it to Beverly. Ben harbors a crush on Beverly that spans that period in their childhoods and is renewed in adulthood during the second battle with It.
The Apocalyptic Rockfight
Edit
While Beverly and the Losers are discussing about how powerful It is, a black boy named Mike Hanlon is being racially persecuted by Henry Bowers. When Mike heads over to where the Losers are, Mike hides behind them. Henry and his friends, Vic Criss, Belch Huggins, Moose Sadler, Peter Gordon, Gard Jagermeyer and Patrick Hockstetter come face-to-face with the Losers. The two groups engage in a rockfight. After everyone (except Mike) is wounded but alive, Henry is the last one standing with his friends fleeing from the fight. Henry swears vengeance on the Losers on intending to kill them all. Mike thanks the Losers and he joins them as the seventh and final member.
The Bathroom
Edit
Beverly experiences her first encounter with It in the bathroom of her own home.  She hears voices rising from the drain of the sink, and when she approaches learns they are the voices of children long dead. They were all supposedly killed by It. However, It shows It's true colours when It changes the voices to It's own and threatens Beverly, using his "We all float down here!" mantra. A red, balloon-like object rises from the sink and when It "leaves" the balloon explodes, flinging blood all over the bathroom.
As would be expected, Beverly begins screaming and attracts the attention of her father. He comes in, believing that a peeping Tom was looking in on his precious daughter, and ends up hitting her (He worries about her, he worries a lot.)  She realizes that he cannot see the blood that covers the bathroom and tells him instead that she saw a big spider. He leaves after checking out the drain, much to the horror of Beverly as he covers his own hands in the mysterious blood.
The blood does not disappear, and she shows it to her friends a day or so later.  The Loser's Club helps clean it up when her parents are out one day.
The Sewers (IT Novel only)
Edit
When the Losers' travel into the sewer with the intent of destroying It, they momentarily find themselves hopelessly trapped. As the boys start to panic, Beverly comes up with the idea of  by having sex with the others in order to calm them down, as a result the other losers take turns having sex with her. Because King didn't wish this to be viewed as a lewd scene, the narrative explicitly states that the act of intimacy with each of the boys' helps to further strengthen their friendship; and Beverly only experiences orgasm while having intercourse with Bill Denbrough and Ben Hanscom.
Chicago, Illinois
Edit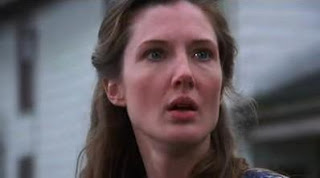 Beverly is now a successful fashion designer, however she has an abusive husband named Tom Rogan. One night, Beverly gets the call from Mike revealing that It has come back. After she is beaten by her husband, she gets the courage to leave him and go to Maine.
During her time in Maine, she reconnects with Bill Denborough after an encounter with It in a new female form living in her father's old apartment. However, after the confrontation has concluded with It's death,  while Bill returns to his wife, Beverly leaves Maine with Ben Hanscom and they head west; one week later they are married and just weeks later Beverly is pregnant.
Appearances
Edit
Image Gallery
Edit