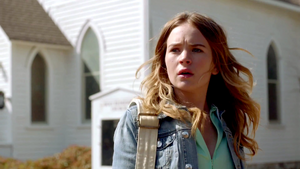 Angela McAlister is an aspiring nurse who lives in the town of Chester's Mill, Maine, and works as a waitress at the Sweetbriar Rose. She is the older sister of Joe.
She may be considered a twinner of Angie McCain.
Death
When Angie closed Sweetbriar Rose, and takes out the trash, she saw a mysterious girl named Melanie Cross walking down the street and followed her. She walked into the high school and sees Melanie looking at an open locker door. Her presence spooked Melanie who ran off. Angie then looked at the locker when suddenly, she catches a glimpses before realizing her fate. She starts screaming in fear as an axe gets slammed into her head, killing her. Angie's body leans forward, leaving a bloody handprint on the locker and collapsing backwards to her death.
It was revealed in In the Dark that it was Sam Verdreaux who murdered Angie.
Portrayal
In the 2013 miniseries, McAlister will be played by Britt Robertson. McAlister is a main and core characters of the tv series, whereas her "twinner" dies soon after Dome Day.
Appearances
"Pilot"
"The Dome" (mentioned)
Ad blocker interference detected!
Wikia is a free-to-use site that makes money from advertising. We have a modified experience for viewers using ad blockers

Wikia is not accessible if you've made further modifications. Remove the custom ad blocker rule(s) and the page will load as expected.