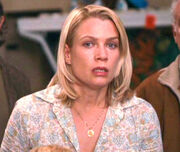 Amanda Dumfries was a young schoolteacher living in or near Bridgton, Maine. She is a central character in The Mist and its film adaptation, where she is portrayed by Laurie Holden.
The Mist
She is in the supermarket, purchasing groceries, when the mist sweeps through the parking lot. As the rest of the 70 supermarket patrons panic and grow desperate, Amanda retains her sanity, becoming a friend to young Billy Drayton, who is scared and wants his mother. Since her husband was out of town on business often, he had bought her a Colt .357 Magnum revolver, which is used to kill several monsters inside the mist.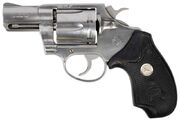 Together with David Drayton and Billy, she fled the store in David's car.
Appearences
References
Ad blocker interference detected!
Wikia is a free-to-use site that makes money from advertising. We have a modified experience for viewers using ad blockers

Wikia is not accessible if you've made further modifications. Remove the custom ad blocker rule(s) and the page will load as expected.