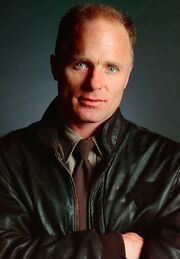 Alan J. Pangborn was the sheriff of Castle Rock, Maine for a decade, between 1981 and 1991. He succeeded George Bannerman as sheriff and faced two major adversaries in his town: the first against George Stark (The Dark Half) and the second against Leland Gaunt, the owner of the 'Needful Things' shop.
He is widower to Annie Pangborn, and father to Al and Todd Pangborn. Annie was killed in a car crash, with their younger son Todd, not long after the Beaumont affair that was the subject of The Dark Half. Following the traumatic events of The Dark Half, Pangborn suffers constant nightmares. He informs the reader of Thad Beaumont's eventual divorce, alcoholism and suicide. Thad Beaumont was the protagonist of The Dark Half. Pangborn also suffers the nightmare of losing his wife and son to a car crash. He is a gifted amateur magician and is able to produce a number of different and complex shadow puppets and sleight-of-hand tricks.
He is now married to Polly Chalmers and lives in New Hampshire.
Appearances