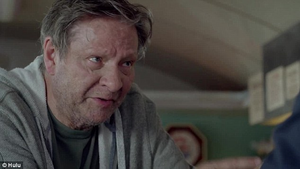 Al Templeton was the owner of Al's Diner, a restaurant that sold his specialty: "The Fatburger". He was the discoverer of the time portal, or "rabbit hole" as he called it, in his diner's pantry.
He was a close friend of Jake Epping, as Jake was his most loyal customer as of 2011, and was responsible for developing the plan to prevent the assassination of John F. Kennedy using 5 years of his own fieldwork from 1958-1963 concerning events relating to the assassination.
Character Overview
Al had asked Jake by telephone to come to his diner at the end of the 2011 school year. Jake, who had seen Al just 24 hours ago, was shocked to see that Al had apparently aged significantly and had become seriously ill with lung cancer, due to his cigarette addiction. Confused by how this could possibly happen, he listens to Al's explanation.
Al introduces Jake to time travel by showing him the "rabbit hole" and instructs him how to use it to travel back to 1958. Al explains he had been using it for ages obtaining, relative to 2011 prices, high quality beef for cheap with which he had been using in his Fatburgers. 
Al however eventually realised he could change the past and became obsessed with the idea of preventing the assassination of John F. Kennedy, believing that it would prevent a lot of the major social and political disasters of the late 20th century, including the assassination of Martin Luther King and the Vietnam War.
Assuming he would not be able to carry out this task completely alone, Al had created a book of detailed notes regarding the movements, lifestyle, and social interactions of Lee Harvey Oswald in the past. Within it he also contained historical dates of importance, along with sports statistics for generating finance, using information from the present (2011). The "Book of Al" was Jake Epping's most important tool in the operation.
Al had also first tested the effects of changing the past on smaller events, such as saving a girl from being paralyzed in hunting accident, and was able to inform Jake about several effects of time travel he had discovered, such as the way the past refuses to be changed, that each time you return to the present and re-enter the portal you reset what you had changed, that 2 minutes pass in the real world no matter how long you spend in the past and also about the mysterious "Yellow Card Man" and how the portal seems to affect him.
Al also seemed to appreciate how the butterfly effect could create huge distortions in the timeline but was still largely unaware of what he was doing and the drastic effects changing history might have.
Al motivates Jake into carrying out the mission by committing suicide.