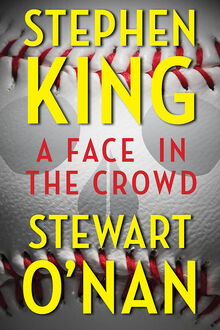 "A Face in the Crowd" is a novella co-written by Stephen King and Stewart O'Nan (who had previously collaborated on the non-fiction baseball chronicle Faithful), and made available for download on 21 August 2012.
Summary
Dean Evers is an old widower who's taken to watching baseball on lonely nights to distract himself from the sudden absence of his wife, and the scene of her stroke replaying in his mind. These evenings are like solitary confinement for Evers, the worst of punishments in his eyes: "a beating had to stop, but a thought could go on and on." The games are supposed to be a diversion from this mania, but they prove to be just the opposite. In an eerie twist, Evers is forced to face just what he's been trying to avoid in the wake of his wife's death: his past. As Evers watches the game each night, a rotating cast of characters appears in the seat behind home plate – people Evers recognizes, people he thought he'd never see again.
Audiobook
An audiobook version of the story was released on compact disc, narrated by Craig Wasson, on 21 August 2012.